Hershey Kiss cookies recipe
Hershey Kiss cookies (AKA peanut butter blossoms) are one of our all time favorite cookies--peanut butter and chocolate are simply meant for each other. We grew up having these mostly around the holidays, but there is no reason why this delicious cookie has to be limited to a few short months. We haven't been to a summer picnic yet where these weren't the first dessert to be finished off.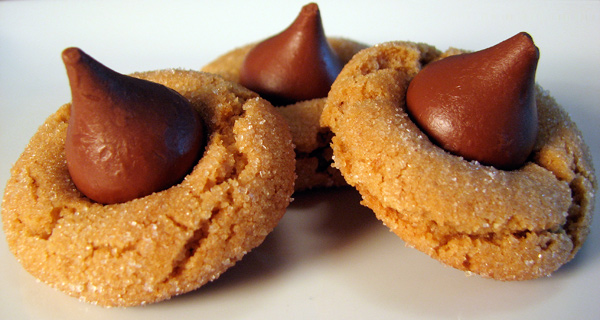 The recipe is essentially one for peanut butter cookies with the twist of topping with a chocolate candy. However, when we're making plain peanut butter cookies we tend to make a firmer dough (it doesn't need to hold onto a Hershey Kiss) with a bit more peanut flavor. This peanut butter cookie is a bit lighter and goes nicely with the chocolate.
Recipe
Ingredients
1/3 cup softened butter
1/2 cup peanut butter (128 grams--we find it easiest to measure peanut butter by weight right in the bowl)
3/4 cup brown sugar
1 egg
1 tsp vanilla
1 1/3 cup all purpose flour
1 tsp baking soda
1/2 tsp kosher salt
(White sugar for dusting)
Bag of Hershey Kisses, or similar shaped chocolate candy
Technique
Pre-heat oven to 375ºF
Cream together the butter, peanut butter and brown sugar. (We do this in a stand mixer.)
Add the egg and vanilla, mix until combined
Combine the flour, baking soda and salt in a separate bowl and add to the other mixture. Combine thoroughly.
Roll the dough into small balls (a rounded teaspoon is a good start), optionally roll around in white sugar and place on a lined baking sheet. We use a SILPAT, but parchment paper works as well.
Bake for 9-10 minutes, the cookies will have puffed up and be golden brown.
Top each cookie with a Hershey Kiss, pressing down lightly so that the candy becomes part of the cookie
Notes
Cookie size is variable, but since the dough will puff up in the oven we use a fairly small size (approximately 1 1/2 tsp).
These freeze surprisingly well
Posted on July 27th 2009 and last updated on January 10th 2010