Pulled pork (in the oven) recipe
Pulled pork is the litmus test we use for barbecue and is a favorite to serve for large get togethers. Using a smoker is traditional, but buying a large dedicated device isn't necessary to have excellent results. We use a dutch oven which makes this recipe completely apartment friendly. It's so good your guests will be looking for your smoker in the backyard.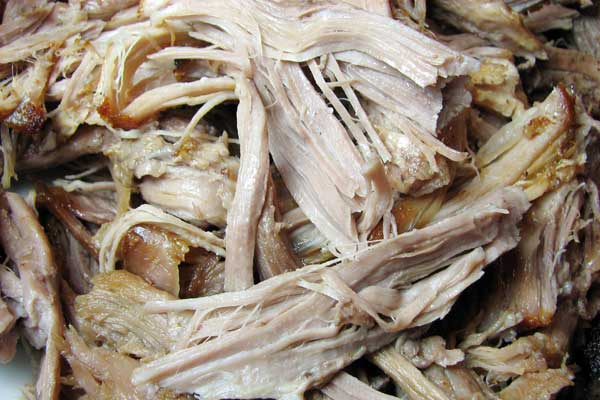 Pulled pork can be made with different cuts, but we use pork shoulder / boston butt (the same cut used in our carnitas recipe). It's fatty, has tons of flavor and is usually easy to find and reasonable in cost. Bone in is best, but boneless isn't a deal breaker.
This pork is great as-is, but we like to serve as BBQ pork sliders--toss with a little barbecue sauce and serve on a small roll with pickles.
Like many of our recipes, this is more of a technique than something very specific to follow. Feel free to experiment, it's hard to mess up pork shoulder. The general method we're using is a spice rub followed by a long and slow cooking inside of a dutch oven with high humidity.







Recipe
Dry rub ingredients
(The proportion is what's important, scale to your needs depending on the amount of meat you're using)
1 tablespoon brown sugar
1 tablespoon paprika
2 teaspoons kosher salt
1 teaspoon black pepper
1 teaspoon cayenne pepper
1 teaspoon mustard powder
Ingredients
1 bone-in pork shoulder (sometimes called Boston butt), 5-10LBs
Several drops Liquid Smoke
1/2 cup Apple juice or water
Technique
Rub pork thoroughly with dry rub, coating all size. It's a big piece of meat, don't be shy with seasoning. You can do this up to a day in advance or as little as an hour before hand.
Pre-heat oven to 275ºF
Combine the Apple juice with liquid smoke in a small ramekin, place in the dutch oven
Put the pork in the dutch oven being careful to not spill the liquid. Cover tightly and place in oven.
Check for tenderness after 5-6 hours, larger shoulders may take longer. The meat should be fall apart tender with the bone pulling out easily without meat attached.
Evacuate to a cutting board and allow to cool until you're able to comfortably shred the meat with your fingers or two forms. Discard any large sections of fat.
Posted on February 2nd 2010