Oven fried chicken wings recipe
Chicken wings are classic American bar food, but if you're like us you want to be able to eat chicken wings while still controlling the remote. It's easier than you think and a deep fat frier isn't required. Grab an extra napkin and [maybe] some celery and join us for hot wings.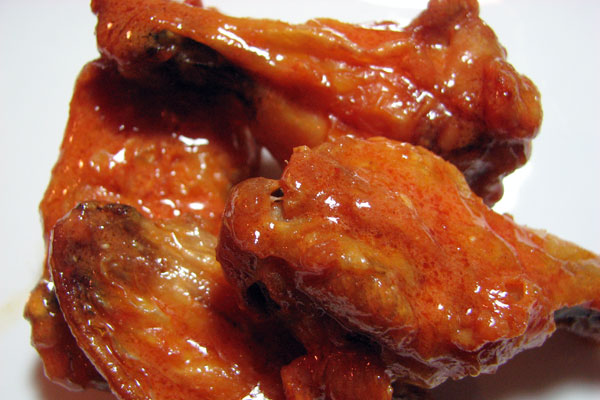 General theory
Fried wings are delicious, but messy and expensive to make at home (not to mention dangerous!). For home wings we prefer to oven-fry and wings have enough internal fat that pretty much all you need is lots of heat. There is one caveat though and that's for best results the skin on the wings have to be absolutely dry. If moisture is present it will keep the skin from getting crispy. To get the skin as dry as possible we salt the chicken pieces on both sides and keep them in the fridge over night.
Butchering Technique
Chicken wings typically come either individually quick frozen (IQF in grocer slang) or our preferred method of fresh and whole. If you've never made wings at home before you may be surprised that one wing is actually two pieces that are connected and require some knife work. Using fresh wings will always result in an equal amount of flats and drummettes.
To cut fresh wings into the pieces you're familiar with first use a sharp chefs knife and dispatch the tips connected to the flat on the opposite side of the drummette. There isn't anything worth eating on them, but they are great for stock so save them in the freezer. Next cut apart the flat and drummette by sliding your knife between the joint. It takes a few wings to get a hang of, but the goal should be to not cut through bone and instead simply separate the joint.





Recipe
Ingredients
Individually cut chicken wings, either fresh or thawed
Kosher salt
Butter
Hotsauce
Pre-baking instructions
Pat raw wings with paper towels and sprinkle both sides with a generous amount of kosher salt
Arrange the wings on a cooling rack over paper towels sitting on a sheet tray and place in the fridge for at least four hours (we go overnight, the goal here is to completely dry the exterior of the wing)
Baking instructions
Pre-heat oven to 450ºF
Remove wings from fridge, allowing a few minutes for the chill to wear off before placing in the oven (we usually just take them out at the same time as starting the oven). Discard the paper towels below the cooling rack.
Bake each side for 20 minutes or until golden brown
Toss in sauce and serve
Buffalo wing sauce
Traditional wing sauce is made from equal parts by volume melted butter and Frank's Redhot sauce, but feel free to spice this up. Some of our favorite additions are honey, mustard, BBQ sauce and sriracha. There are of course many other sauces that aren't spicy, the sky is the limit.
Posted on February 24th 2010