KitchenAid stand mixer
You've only got two hands, but a stand mixer is handy enough you'll swear you have an extra set. KitchenAid's iconic stand mixer
is a workhorse in our kitchen and while not cheap is well worth the investment. We use it for everything from whipping egg whites, to making juice to kneading bread dough.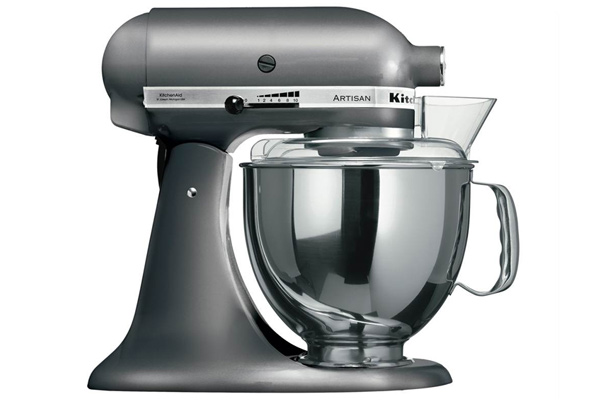 There are several models available, ranging from the entry level 250-watt 4 1/2 quart model (which we found underpowered) to a powerful 450-watt 5 quart commercially rated model. Most home kitchens will do fine with the Artisan 5-Quart 325 watt Stand Mixer. That's what we use and unless you like to knead back-to-back loaves of bread you shouldn't run into trouble.
One thing to watch out for is that KitchenAid switched its consumer line from metal gear construction to a new build process that uses plastic. This was a cost cutting move and some feel has affected quality. All metal construction can still be found in the commercial line, but you'll be paying about twice the price.
All KitchenAid stand mixers still contain quite a bit of steel and weigh more than you'd think as a result. Ours is 22 pounds and that's heavy enough that if you weren't going to give it dedicated counter space you should reconsider (you don't want to be lifting it on a regular basis).
Pro tip: There are lots of color choices (Amazon alone carries 24!), but we have found that price varies widely depending on the color. If you're flexible you can save 20-30% and in some cases even more.
Posted on August 11th 2009