Oatmeal chocolate chunk cookies recipe
Chocolate chip cookies are in our minds the perfect American comfort food. Quick to make and hard to beat, our recipe is like what mom used to make (at least if you had a mom that made really good chocolate chip cookies). We use lots of oatmeal and large chocolate chunks which gives the cookies a great texture. Baked until just set, the resulting cookie stays chewy after it's cool. Make these for a party and you'll be a hero.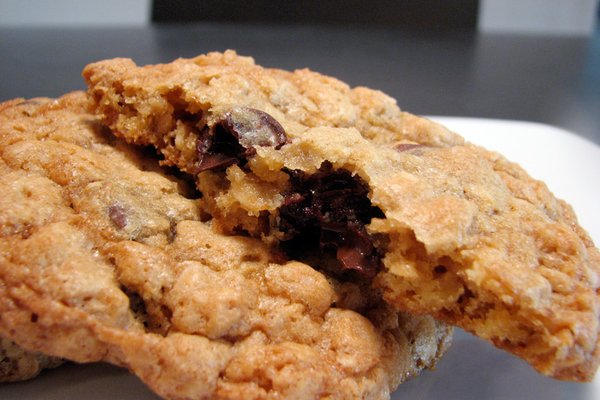 Recipe
Oatmel chocolate chunk cookie Ingredients
1 3/4 cups all-purpose flour
3/4 teaspoon baking soda
3/4 teaspoon baking powder

3/4 teaspoon kosher salt

1/2 lb. unsalted butter (2 sticks), softened

1/4 cup sugar
1 1/2 cups brown sugar
2 eggs

2 1/2 teaspoons vanilla extract

3 1/2 cups rolled oats

1 1/2 cups chocolate chunks
*Adapted from Joy of Cooking *
Mixing instructions
Cream butter and sugar in a stand mixer (or beat vigorously by hand)
Combine flour, baking powder, baking soda and salt in a separate bowl
Add vanilla and eggs to the butter/sugar mixture and mix to combine
Add dry ingredients to the mix and combine, dough will be sticky
Stir in oatmeal
Stir in chocolate chunks by hand (they can get stuck in a mixer)
Chill finished dough in refrigerator for at least 30 minutes
Baking instructions
Heat oven to 350ºF
Prepare half sheet pan with either a SILPAT or parchment paper
Portion out 2-oz rounds of chilled dough, flatten into discs on pan
Bake cookies for 12 minutes, you want to take them out before they look all the way done
Notes
We use chocolate chunks, but chips will also work (though you may want to ratchet down the quantity as there is less air space between chips than with chunks).
Add a quarter cup of cocoa powder into the mix (and if you want to keep proportions, either remove some flour or add in a bit of milk) to make these chocolate oatmeal chocolate chunk cookies.
Posted on April 19th 2009 and last updated on April 20th 2009