No-bake Ritz Cracker cookies recipe
In a shameless attempt to rip-off the venerable Girl Scouts Tagalongs, we came across a deceptively simple technique to make cookies out of Ritz Crackers. We were skeptical, but how bad can a Ritz be with peanut butter and chocolate? After a taste test the verdict is in: these are killer.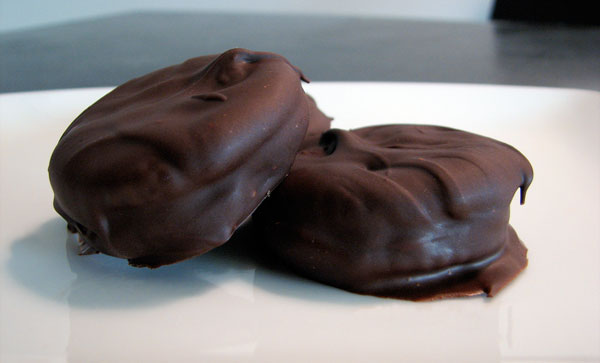 Since these are so quick, don't focus on our measurements. Just get some Ritz Crackers, smear with peanut butter and dip into chocolate. About the only thing that can go wrong is the chocolate. If you don't want to take the time and go through proper tempering, and can't find a suitable dipping chocolate you can use more home-friendly products like Almond Bark.

Recipe
Ingredients
1 sleeve of Ritz Crackers
1/4 cup peanut butter
1/2 cup of your favorite dipping chocolate
Technique
Put peanut butter on half of the crackers and then cover with the other half, making sandwiches
Melt chocolate according to the manufacturer's directions, we suggest using the microwave as it's quite easy to scorch chocolate on the stovetop
Dip cracker sandwiches into chocolate, shake off excess and place on a SILPAT or wax paper
Allow to cool
Variations
Use your imagination, we've tried the same chocolate dipping technique with Nutter Butter cookies with great success.
For even more chocolate flavor, try spreading Nutella on one Ritz and peanut butter on another. Combine and then coat in chocolate.
Posted on March 30th 2009 and last updated on June 30th 2009