Dinner rolls recipe
Light and fluffy, our dinner rolls are a fine accompaniment to a Sunday dinner and make killer sandwiches for Monday. While you can certainly make rolls with our no-knead refrigerator bread dough, this dough makes a lighter roll that is more traditional (no hard crust thanks to the lower baking temperature and fat content in the dough). Since bread can be a little tricky at first, we have meticulously documented the process with photos so you'll know what it should look like at all steps along the way.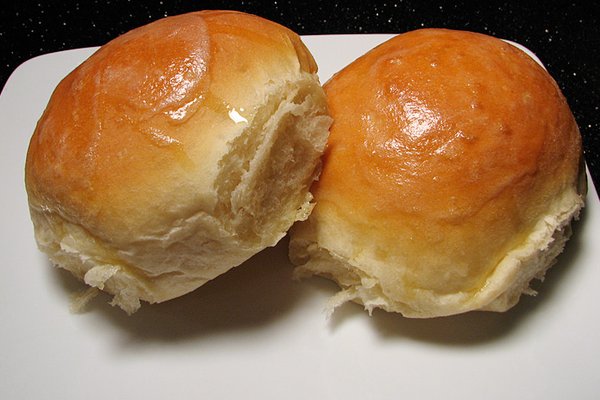 Note: We highly suggest using a stand mixer for combining the ingredients and the kneading process. The dough is quite wet and sticky which means you'll probably have most of it on your hands if you tried doing it manually. If you don't have a stand mixer and feel ambitious, feel free to either use a bit more flour or less milk to make the dough a bit less wet. The final product won't be exactly the same, but it beats keeping half of it on your fingers.







Recipe
Ingredients
3 cups all-purpose flour
1 1/4 cup slightly warm milk
3 tablespoons melted but not hot butter
1 beaten egg
2 tablespoons sugar
2 1/4 teaspoon instant yeast
3/4 teaspoon kosher salt
Instructions
Combine wet ingredients plus the yeast in the bowl of a stand mixer using the paddle attachment
Add in flour a cup at a time, still using the paddle attachment
Once fully incorporated, switch the dough hook and knead until dough pulls away from the sides of the bowl, approximately 10 minutes. The dough will remain quite sticky, this is normal.
Cover and let dough rest in mixing bowl for an hour
Punch down and turn dough out onto a board or countertop, it will still be somewhat sticky so use some bench flour to help keep everything together
Portion into 12 equal pieces and place onto a half sheet pan (use a SILPAT if you have one). We use a scale, which comes to 2.5oz portions, but if that's too Bill Nye for you just make three equal pieces, cut each of those into two and then each of those into two.
Cover and let rise for another hour, remembering to start pre-heating the oven to 350º halfway through
Bake until lightly browned, about 20 minutes
(Brush with butter if desired)
Variations
Mixing in whole wheat flour gives great flavor--start by substituting a quarter cup and see what ratio works for you
This doesn't have to be rolls, you can make six sub style portions or even toss it into a loaf pan and make sandwich bread.
Posted on April 21st 2009