Chicken and yellow rice risotto recipe
Chicken and yellow rice is one of our favorite Cuban comfort foods. In areas with large Cuban populations you can find yellow rice packages in the supermarket, but we prefer to make our own. This recipe departs from tradition in that it's technically a risotto, but keeps all the same great flavors (along with the texture that risotto is famous for). We add black beans to make it an entire meal in a bowl.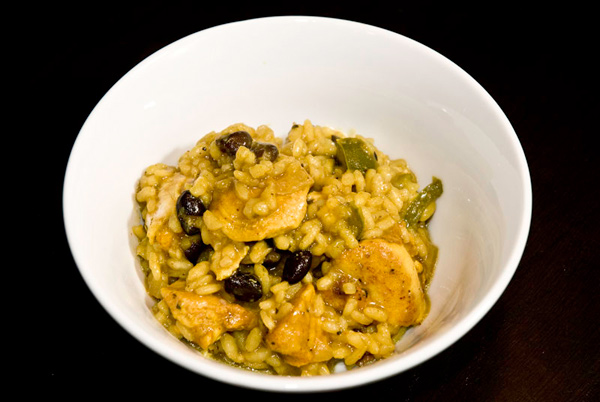 This recipe is more a technique than anything so feel free to augment the amounts to suit your needs. It would even be good without the chicken if you want to go vegetarian (in that case you'd also want to use just water or vegetable stock).
Risotto is easy to make, but it may take you a couple of times to get the hang of it. The general theory is to coat a high-starch rice (we're using Arborio since it's easy to find) in fat and then add the cooking liquid in intervals. Add some stock, give it a stir and wait for it to absorb/evaporate. Add some more stock, rinse repeat. Stop adding stock when the rice is to your desired firmness. Seasoning can be tricky since evaporated stock tends to be fairly salty, so it's wise to be cautious with salt at the start of cooking. Contrary to popular belief, you do not have to constantly stir risotto.


Recipe
Ingredients
Chicken cut into bite sized chunks (breast or thighs both work great), the amount is variable but we usually use about a pound
Olive oil
1 white or spanish onion diced
1 or 2 green bell peppers (1 large or 2 small)
2 cups Arborio rice
6-7 cups chicken stock
1 can black beans, drained
Spice blend
2 teaspoons tumeric (this gives the color!)
1 teaspoon kosher salt
1 teaspoon black pepper
1 teaspoon cumin
(1 teaspoon chipotle powder)
Instructions
Heat a large heavy bottomed pan over medium high with enough olive oil to coat the bottom
Coat chicken with the spice blend and add to pan, if there's any remaining spices save them and add with the onions and peppers
Let chicken brown on all sides and then remove it into a bowl (it will finish cooking in the rice)
Add onion and bell pepper to the pan, if there's not much oil left add more
Start heating the chicken stock in a separate pan, you want to hold the stock at a near simmer
Once the onions and peppers have softened and taken on a bit of color, add in the rice and stir. It's important that every rice grain is coated in a thin layer of oil so once again if there's not enough oil add a bit more
Put a cup of your heated stock in the pan, stir and wait for it to be absored. Repeat until all your stock is used and/or rice is to your desired doneness. We like it a little on the al dente side which usually takes about 20 minutes.
About halfway through the stock, introduce the chicken and any accumulated juiced into the rice
Finish by stirring in the black beans and adjusting for seasoning
A finishing pad of butter is a nice touch, but not required
Posted on May 26th 2009