Dutch oven
An enameled cast iron dutch oven is one of our workhorse pans. It's perfect for making pasta sauces, stews, braising meat, deep frying and even some kinds of bread. Le Creuset is the largest brand name in this space, but at north of $200 their pieces are priced a bit more than most consumers (including us!) are willing to spend. Our kitchen sports a 6-Quart Lodge Enameled Cast Iron Dutch Oven [$69.32
] and yours should too.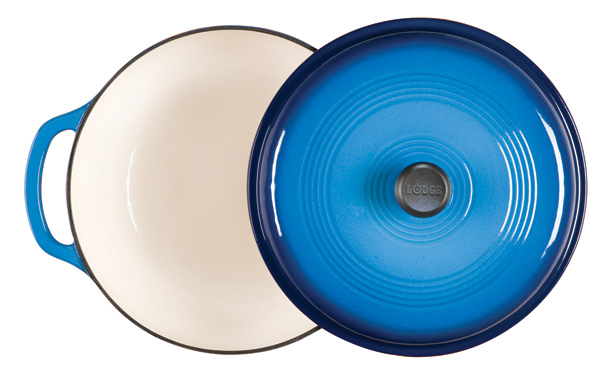 The enameled coating on this dutch oven lets you treat it more like a regular pan than cast iron. It can be washed with soap and handle acidic ingredients (in fact it's our go-to pan for tomato sauce). One word of caution, this is a big piece of iron and feels every bit of its 15 pounds. That bulk comes in handy when you want to evenly brown meat, but can be quite a shock to a cook used to stainless steel cookware.
Our only complaint is that the lid's handle is made of plastic and can't handle oven temperatures greater than 400ºF. While that's fine for almost all recipes, we did run into some trouble baking bread. If you want to do high temperature baking with your dutch oven, do what we did and buy a Le Creuset stainless steel replacement knob for a ten spot.
Posted on July 1st 2009 and last updated on August 13th 2009